Flohaan's Promise to create a WOW experience for every customer, through expertly crafted arrangements, exceptional freshness, and unparalleled customer service.
I was really impressed by the level of service and attention to detail that Flohaan Luxury Flower Gifting provided. They helped me design the...
I highly recommend Flohaan Luxury Flower Gifting for anyone looking for a truly special and unique flower arrangement. The bouquet I ordered for my...
I have been a customer of Flohaan Luxury Flower Gifting for a while now and I have to say, they never disappoint. The quality...
I was looking for a luxurious gift for my business partner and I came across Flohaan Luxury Flower Gifting. Their team was so helpful...
News Articles & Blogs
In the fast-paced world of business, making a lasting impression is paramount. One way companies are achieving this is through the art of corporate gifting. In this blog, we'll delve into the significance of corporate gifting and how it can help individuals and businesses build and enhance their personal brand.
Read More »
News Articles & Blogs
In a world often characterized by cutthroat competition and profit-driven endeavors, it's refreshing to witness the rise of corporate gifting as a powerful tool for fostering goodwill and inspiring acts of kindness. While the corporate world has long been associated with bottom lines and shareholder value, more companies are recognizing the value of giving back to their employees, clients, and communities through thoughtful and purposeful gifting programs. The act of corporate gifting goes beyond mere material exchange; it embodies the spirit of generosity and gratitude. Let's delve into the various ways in which the power of corporate gifting is making a difference in today's business landscape.
Read More »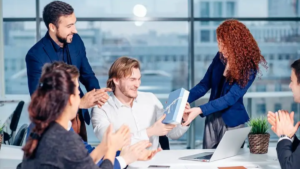 News Articles & Blogs
In the fast-paced world of business, where productivity and efficiency are paramount, it's easy to overlook the importance of fostering strong interpersonal relationships within your team. However, savvy employers understand that a cohesive and engaged workforce is key to achieving long-term success. Corporate gifts and team-building activities are two powerful tools that can help strengthen the bonds among your employees and create a more harmonious and productive work environment.
Read More »
Ready to take your corporate gifting to the next level? Contact us today to learn more about our personalized gifting options.